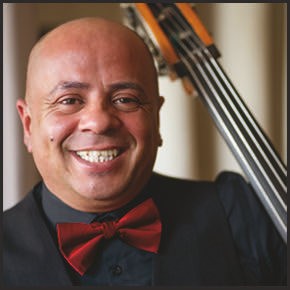 Bobeye Reinhardt, as well born into this famous familiy of Sinti-musicians, is the grandson of the Sinti-violinist legend "Schnuckenack Reinhardt".
Bobeye is considered as one of the best (Double-)bass players of these days in the Jazz-community here in germany.

His virtous playing covers the "old style" Hotclub-sound as well as modern Funk-Jazz or other modern styles which he knows to nail perfectly in every kind of key, even on his 7-string bass.
Bobeye Reinhardt is a great friend, an incredible bassplayer and a very humble person. It´s such a great pleasure and honour to have him on all tracks adding his marvelous Swing to all of my songs on my debut album.