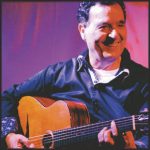 Fapy Lafertin born in Courtraie (Belgium) into the manouche community is considered as one of the best Gypsyguitarists of our time. Some even say that he is solely the "only true legacy" of Django Reinhardt.

Since the early 1980ies he has played with famous Jazzmusicians such as Charlie Byrd, Scott Hamilton, Al Casey, Benny Waters und Milt Hinton or Stéphane Grappelli. In the late 80ies he founded his own group the "Fapy Lafertin Quintett" recording noumerous albums in the original Hotclub-style.

His playing style is absolutely unimitable and unique. Strongly influenced from classic music, Fapy knows how to play portguese 7-string guitars as well as any style of Jazz, Swing or modern music. It is such a great pleasure and honour that Fapy Lafertin contributed some of his unique playing to my debut CD.

Fapy kindly added some Rhythm-, and Sologuitars on "Réve de Samois" and "Roulez lentement et voir".