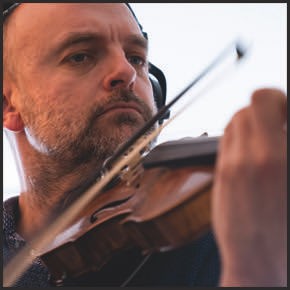 Christoph König is a fantastic german violinist and musician. He started out on classical violin with Prof. W. Rausch as his teacher.
In the early 2000 he studied jazz-violin at the "Conservertoire de Paris" with violin-legend Didier Lockwood.
After years of experience, he is invited as composer, arranger and musician from many classical or Jazz formations. Thus Christoph is seen on many festivals and big venues in the Classic- and the Jazz-scene all the same.
His interest in classic as well as in jazz, worldmusic or other unique musicstyles made him play alongside with famous musicians such as Lulo Reinhardt, Kussi Weiss, Mario Adler, violin virtouso Florin Niculescu or even the grammy-awarded "Turtle Island Quartet".
Such a pleasure to have this incredible musician on some of the tracks of my album. Christoph added his mindblowing violin to my tunes "As the river flows" , "Chrystalline boppin" and "Swing 2021".