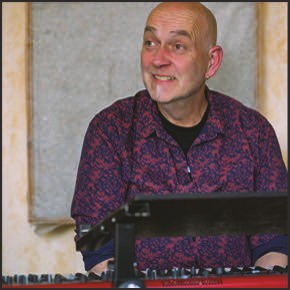 Winfried "Winni" Schuld is an incredibly decent piano and accordion-player.
His tasty playing covers many different styles such as Latin, Swing, Jazz as well as Worldmusic. Winfried is a very humble and nice person and a great musician.
For many years Winni is playing alongside with my friend Lulo Reinhardt in the "Lulo Reinhardt Latin Swing Project", thru which we got in touch.
After we played some Gigs together in our formation "Lulo Reinhardt & Bertino Rodmann Quartett", thus knowing my tunes, Winni agreed as well to add his tasty lines onto my CD.
He added his virtous accordion on my tune "Pressure Waltz" and played piano rhythm backings and some Solos on my tunes "As the river flows, "Swing 2021" and "Just for your own fun". I am very happy to have him on the album as his playing is rounding up the sound so very well.